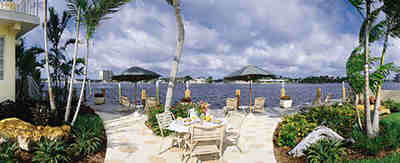 Located on the Intracoastal Waterway, just 500 feet from Fort Lauderdale Beach's palm-lined promenade.
The Pillars at New River Sound houses 19 gracious guest rooms and 4 suites in a design that recalls the colorful architecture of the British Colonial plantations found throughout the Caribbean during the seventeen and eighteen hundreds. Two separate buildings comprise the structure, visually linked by a pale yellow exterior accented with moss green shutters and white pillars and trim, flower-covered trellises. The hotel's courtyard opens onto breathtaking views of the Intracoastal Waterway and the lush, tropical landscaping surrounding the pool.
Public spaces are warm and inviting with a mixture of custom furnishings and pastel painted paneled walls, accented by darker, oak wood floors and beautiful white trim. The lobby boasts a baby grand piano, concierge desk and library shelves for the guests' perusal. Throughout the hotel, lithographs and objects d'art add charm and style.
Guest rooms evoke a sense of comfortable luxury that one might experience in a magnificent, yet unpretentious, beach home. Featuring the finest in appointments and furnishings, most rooms are configured to yield views of the panoramic lntracoastal Waterway. French doors and shuttered windows open to the balmy Intracoastal breeze. Semi-gloss walls, Imported Rattan and mahogany headboards, period desks and night stands, and exquisite draperies and blinds add to the hotel's residential charm.
Poolside rooms feature french doors that open to a waterfront courtyard and heated freshwater pool, landscaped in a lush, tropical garden theme.
Suites replicate the residential tone set in the guest rooms and in addition, feature wet bars with refrigerators and microwaves, and charming sitting areas.

All guest rooms and suites offer remote control 24-inch or 27-inch color televisions, stereo clock radios; private bars; in-room safes; superior amenities; fine linens and bath robes; and two, two-line telephones with dataport.